Last updated on March 18th, 2020 at 06:09 am
If an event is entertaining, it becomes more appealing to guests and even leaves a lasting impression on them. So, it makes sense to focus your energy into making your attendees' experience more fun and memorable.
Luckily, this is something the following article can help you with.
Keep reading if you want to know just how you can turn your event into a veritable comedy show!
Bring the Fun on Stage
If you want to bring a whole new level of comedy to your event, we recommend leaving it to the professionals. Hiring a professional comedian can ignite the atmosphere and turn your event into something your guests will genuinely look forward to.
We can suggest booking Stacy Pederson. She is a comedienne, actress and keynote speaker with a talent to get a good laugh out of anyone.
If you want your attendees to be inspired and learn new things while laughing through the entire process, then hiring Stacy is the perfect choice to make.
Another excellent suggestion is Geoff Woliner. In his own words, Geoff is an emcee for grown-ups. He can put on a hilarious comedy show for audiences and infuse your event with laughter. His programs are perfect for special corporate events, such as conferences and gala dinners, but also fundraisers.
Pick a Playful Theme
A theme means more than just setting up specific decorations. Picking a theme means giving your event a particular atmosphere and a narrative that the attendees can get on board with.
An exciting theme can be a great conversation starter for your guests and can even spark creativity in some of them.
For example, in the case of a Funny Christmas themed event, your guests can come up with some incredible ideas for Christmas sweaters and wear them to the event.
A great theme for your event could also be to change the dress code to costumes instead of formal attire. To work in a comedic element, you can ask your guests to bring funny masks and recreate the vibe of a masked ball.
Consider a Comedy Act that Starts in The Crowd
Why keep the entertainment just on stage, when you can have it embedded in the audience?
You can create a fun atmosphere by having professional entertainers who blend in with the audience at first and then totally take them by surprise by performing a one-of-a-kind act.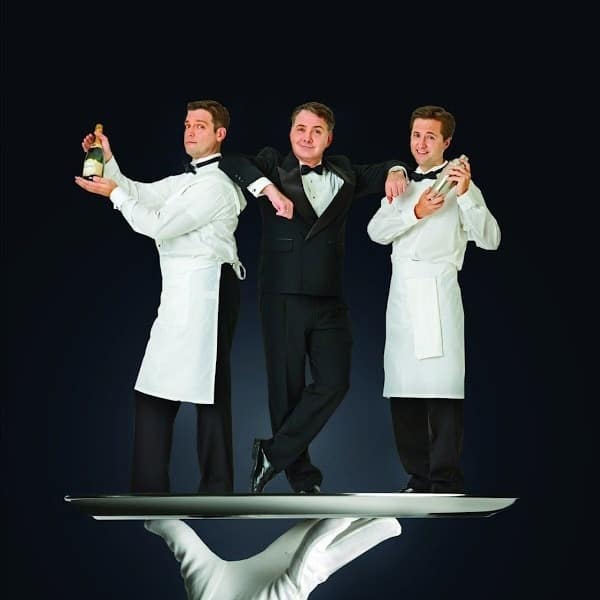 If this sounds interesting, then we suggest hiring The Three Waiters for your event.
Their entire act is all about taking your unsuspecting guests by surprise with an impressive vocal performance.
They do this by disguising themselves as part of the event's staff, as regular waiters. The night goes on with The Three Waiters serving the guests, greeting them at the door, as it is expected.
However, little will your guests know that when the time is right, The Three Waiters will unleash an opera performance that will leave everyone speechless.
3 Talented Entertainers Who Can Master Unique Comedy Shows
Are you eager to engage your clients and get to know them better? Or perhaps you want to reward your employees with a memorable event? No matter what your goal is, we know how to help you achieve it.
Our secret recipe revolves around laughter – an ingredient everyone loves. Read on to discover the 3 talented entertainers who can help you kick off an unforgettable evening. Learn more about their comedy shows and what makes them truly unique comedians.
1. Thor Ramsey: Amazing Christian Comedy
Our master of ceremonies is one of the 3 must-see entertainers you'd love to meet. This versatile artist has been praised both for his humor and his capacity to inspire. Thor Ramsey is famous all over the country. If you have an interest in comedy shows, chances are you've heard about him. 
Thor has been in the business since 1987 and rest assured; he's not going anywhere. His show is absolutely hilarious and incredibly compelling. Whether he performs for 50 or 500, he has the same power and ability to entertain.
Conferences, festivals, TV shows, you name it, he did it. Thanks to his extensive experience, Thor Ramsey is an authority in the field of Christian comedy. 
2. Bob Stromberg: Top Corporate Entertainment
Bob is one of the most esteemed entertainers in our portfolio and has an impressive performance arsenal. But, of course, you have to see it to believe it. So, allow us to give you some reasons to attend Bob's comedy shows.
First, we can't help bragging about his achievements. So let's say he put out quite a show for several Fortune 500 companies. But don't rush to judge. He's not an exclusivist entertainer who only works with the big guys. Bob has also participated in numerous events organized by nonprofits.
He is a co-author of the famous theatrical phenomenon 'Triple Expresso.' This show gave Bob the chance to prove his mesmerizing abilities not only as a stand-up comedian but also as a storyteller.
Bob is simply brilliant and has the magic capacity to make time fly. His charm and easy going personality will make you love him. He takes things lightly, and once you go to his comedy show, you'll undoubtedly do the same.
3. Brad Nieder: Top-Notch Clean Comedy Shows
Who said health care couldn't be funny? If you believe doctors don't have a sense of humor, think again. Brad is going to change your opinion about these professionals. Who knows? You might even enjoy going to the doctor after attending his explosive show.
Brad specializes in health and humor, and he's terribly good at combining the two. The 'healthy humorist,' as they call him, is a natural talent and an experienced performer. He has been in the industry for more than 15 years.
Brad likes to make fun of everything and everyone including himself. One can't help but laugh out loud during his performances. Moreover, you shouldn't worry about foul language or inappropriate jokes because Brad's brand of humor is 100% clean. 
Heading out?
It's hard to describe in words what you can only experience in person.
We are very proud of all the comedians we work with. We've only focused on these 3 great entertainers this time. However, there's plenty more talent waiting for you in our portfolio.
Finally, don't forget that laughter connects people. So, do leverage the power of comedy shows in your professional endeavors and get ready to be impressed by the results!
You're Ready to Turn Your Event into a Comedy Show
With the tips featured in this article, you can bring the fun to your event and turn it into an absolute comedy show.
That's not all of it, in any case. You can also get the performers featured in this article to light up your event. Call (615) 283-0039, and we will help you book their services!
Latest posts by Tim Grable
(see all)