Last updated on July 3rd, 2019 at 10:29 pm
Derek Hughes is, first of all, a magician. However, he keeps his audience savoring his whole performance by personalizing his magic acts with theatrical inputs and sometimes even mentalist acts.
He is already proven through the years he is a great performer by participating on MTV, VH1, Comedy Central, Penn & Teller's Fool Us. His biggest achievement on TV performance so far is getting to in the finals of the America's Got Talent show in 2015.
His act from the finals was funny, as well as magical:
America's Got Talent 2015 Derek Hughes Finals
What Derek Hughes Has to Offer
There is a reason why his acts have managed to get on the top stages. With over 30 years of experience in the illusions field he is managed to master:
MicroMagic where he does card, ropes and ping-pong ball tricks

Mentalism

Theatrical Illusions

Comedy Magic
He is the performer who is committed to blowing the minds of the audiences and turning skeptics into believers.
That might be the reason why Derek Hughes is the only magician ever invited to perform at HBO's prestigious Comedy Arts Festival. He is also the person to fill for the legendary Mac King at Harrah's in Las Vegas whenever needed.
In his live shows, he combines his witty sense of humor with his unique performance in the art of conjuring.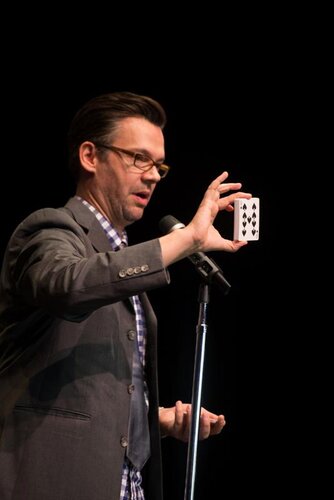 Besides the TV and Vegas shows, he has also performed at Business and Corporate events, as well as College campuses across the United States of America.
Why Your Audience Will Love This One-Of-a-Kind Magician
Derek Hughes does not only promise; he truly delivers on stage. As Magic was an important part of his life even during his childhood surgeries, he gives it all when performing for a live audience.
The attendees at your event will love his performance because:
He incorporates the audience by letting them believe he will explain his tricks

Fails and errors are just elements of humor for Derek Hughes on stage

His range includes tricks which will keep you at the edge of your seat to illusions with a story

Members of the audience get to participate in his acts actively
He continually works on enhancing his performance
One act which took him lots of time to create was the one presented in the Semi-finals of the AGT shows. He wrote the poem for the act and collaborated with Nathan Christopher for the artwork.
However, you need to see it for yourself to truly take it in:
America's Got Talent 2015 Derek Hughes Semi-Final 1
Let Your Event's Audience Enjoy His Performance Too
It is great to have an illusionist or mentalist at your event, but with Derek Hughes, you get both, plus a bit of humor. Even Teller considered him to be:
"Engaging, artful and smart."
That is why you should contact us online if you would like to book him for your next event. You can also reach us by phone at 615-283-0039.
Your event will not only have a one-of-kind Magician, but also a dedicated performer who understands and enjoys his work above all. Derek Hughes will surprise and make you laugh at the same time.
Tim Grable founded The Grable Group.The Grable Group is an international event and entertainment company.In addition to managing the schedules of our speakers, comedians artists and entertainers, we handle their literary, commercial, film/TV, social media and licensing opportunities.
Latest posts by Tim Grable (see all)