Last updated on June 29th, 2019 at 06:01 pm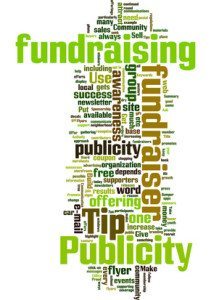 We've all been to them: fundraising events that are dull, lacking a pulse and seemed to go for hours on end. We sit there constantly watching the clock, our minds wandering away from the message at hand trying not to fall asleep – again. So when we get an invitation to this same event, we struggle to find an excuse not to go. Alternatively, we ask ourselves, "I wonder how much is it going to cost for me NOT to have to attend this event again!?!"
Sound familiar? Well, we believe that good fundraising ideas do not have to be a nightmare. Rather, a successful fundraiser runs like a dream and it FUN! What if you could create a fundraiser that past attendees intentionally clear their schedule and actually look forward to attending again this year? Alternatively, create a fundraiser that past attendees are so excited about that they invite their friends out of sincerity rather than an obligation?
Is this possible? Yes! Is it affordable? Absolutely. Here are some good fundraising ideas to put the FUN back into your next fundraiser:
5 Good Fundraising Ideas
1. Make them want to come
It happens to all of us. It is a perfectly good weekend. You are enjoying time with your family and then you remember: you have to attend another lackluster fundraiser. Why not do it differently this year? Time is precious to all of us, so why not make your event a place they want to come. How do you do this? By not repeating the same protocol and schedule every other fundraiser: Dinner….Speaker…Ask….Let's try and grab them before they leave scenario.
Joe Castillo – Inspire/NonProfit 2016 EPK
Using an entertainer is one of the best ways to make a successful fundraiser. Entertainers are a fun and innovative approach to fundraising. Sidesplitting comedians, moving Sand Story, and Theatrical Audience Participation is a surefire way to connect with your audience and communicate your brand and mission at your next fundraiser. People tend to give more when they are relaxed and having a good time. No one gets their checkbook out if they are asleep.
2. Know the personality of your fundraiser
Each good fundraiser has its own distinctive personality and audience. You must consider whom you are trying to attract to attend your event. Are you trying to reach parents? Kids with aging parents? Medical needs? Youth Services? Pet lovers? Chances are your organization has a niche market, and your fundraiser must do the same to be successful. A preschool fundraiser is likely to be more successful if it hosts an event where children are welcome. An animal rights event is much likely to gain success with the comedian that understands the benefits and laughable moments of pet ownership. An international relief organization fundraiser will likely benefit more from a Sand Story than a juggler. Matching the mission of your event with the appropriate keynote adds credibility and flow to your fundraiser.
3. Take advantage of Board Involvement
Any meeting planner knows the value of packing out the house. You could have the best entertainer, scrumptious food and award-winning musicians, but what difference will it make if your fundraiser is poorly attended? Board members are an essential part of any successful fundraiser. Each person knows a handful of people that he/she can attract to your organization. Reach for a goal of a percentage of new attendees that have never heard of your group and place this in the laps of your Board members. Perhaps even have a contest to see who can invite the most people to the fundraisers. Board members know there are responsibilities that go along with an invitation to join, so do not be afraid to include them.
If yours is not a "working board" a fundraiser is a great opportunity to rally support to reach goals of your common cause.
4. Blast out your Silent Auction
Considering all donations are 100% profit, a silent auction is one of the most profitable pillars of a successful fundraiser. If no one is assigned to oversee this important event, then the silent auction will fall short of its financial potential. Who will organize the committee? Who will gather the items and decide how to present them to gain the greatest donation? Who will decorate the tables and create the bid sheets? Assigning one person to spearhead similar questions will make your silent auction a success.
Fundraiser Painter Heidi Schwartz: Heritage Ball Franklin, TN
In addition, get creative with your silent auction items. In addition to the common donations of massages, salon and restaurant gift certificates, secure donations that will be attractive to the niche of your attendees. Having a range of auction items in cost and experiences is another way to make the silent auction catered to a wide audience.
5. Consider the Ask
Almost every fundraiser sets aside a few minutes of the presentation to ask the attendees to partner financially with the organization. This is called The Ask. Attendees expect this and often want to participate. So take some time to consider how your organization specifically needs financial partnerships and clarify that in the Ask. Decide ahead of time who will give The Ask. Many entertainers, even comedians, are experienced and do not mind making the Ask if made aware they are expected to ahead of the fundraiser.
We can help with good fundraising ideas for your next nonprofit event.  Give us a call at 615-283-0039.