Last updated on October 6th, 2019 at 09:28 am
The sun is shining, birds are chirping, and flowers are blooming in beautiful colors everywhere you look. It's spring, the one season in the year when everything comes to life again, and we can finally enjoy some higher temperatures.
So if your nonprofit needs a bit of rejuvenation as well, read on to discover a few unique fundraising ideas which will breathe new life into your organization this spring.
1. Hike Day Event
With the temperatures going up, people are more and more eager to spend time outdoors, in nature. So why not take advantage of this to organize a special hike day event?
To get started, do some research in your area to find family-friendly hike trails. Look for trails which are not hard to access and not too strenuous, yet exciting enough to keep kids interested.
Once you have all the logistics in place and have found sponsorships for things like food, t-shirts, and drinks, you can start promoting your event online. Here's an event page which can serve as inspiration.
As far as raising money for your organization goes, the most straightforward thing to do is ask a fee for people who want to attend the event.
2. Bird House Auction
Spring is the time of the year when many people are building and shopping for birdhouses to decorate their backyards with.
So why not get creative with your next fundraising event and put together a birdhouse auction?
Reach out to local artists, celebrities, and influencers in your area to get them to decorate and embellish a birdhouse based on their aesthetic.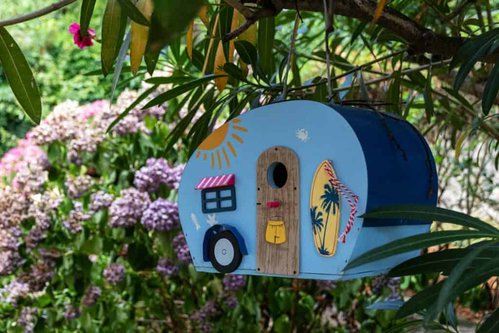 The more expensive the materials used or, the more intricate the design, the more you can raise the auction price of an item. Therefore, the more money you are likely to get in support of your cause.
As an added benefit, this is one of those unique fundraising ideas which will make your event stand out.
3. Spring Fling Dance Event
Most people have fond memories when it comes to those fun high-school dances they used to attend with their friends and classmates.  You can take inspiration from that and put together a fundraising version of a spring fling dance.
The focus here will be to recreate the mood of a typical high school dance. This is what will get people excited to take a trip down on memory lane and have some good old-fashioned fun.
To raise money, ask for donations in exchange for tickets. Also, don't forget the fruit punch.
4. Mowing for a Good Cause Event
With spring in full bloom, everyone's lawns need some TLC.
So, gathering a group of enthusiastic volunteers and advertising a lawn maintenance/cleanup service in exchange for donations is an excellent idea. Put up signs in your area and promote on social media, as well.
Then pick a day where you'll go door to door alongside your volunteers, offering your service to people in the community.
If you can, get a team of professional landscapers to donate their time and expertise as part of the event well. This will allow you to ramp up the prices of offered services and raise more money for your nonprofit organization.
Which of these Unique Fundraising Ideas Caught Your Eye?
If there's one thing, you can never have too much of as a fundraising event planner, that something is an inspiration. So we hope this article has provided you with a hearty dose of it.
Also, if you are looking for premium entertainers who will help you fill more seats at your event, then make sure to check out the artists, comedians, and performers featured in our portfolio for other unique fundraising ideas
Tim Grable founded The Grable Group.The Grable Group is an international event and entertainment company.In addition to managing the schedules of our speakers, comedians artists and entertainers, we handle their literary, commercial, film/TV, social media and licensing opportunities.
Latest posts by Tim Grable (see all)