Tim Grable founded The Grable Group.The Grable Group is an international event and entertainment company.In addition to managing the schedules of our speakers, comedians artists and entertainers, we handle their literary, commercial, film/TV, social media and licensing opportunities.
Latest posts by Tim Grable (see all)
Last updated on July 1st, 2019 at 06:41 am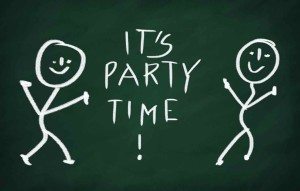 Anyone who has ever been tasked with finding  office party entertainment ideas knows that it is like spinning five plates at once. At first glance, it seems impossible to think of the best entertainment ideas and to organize a party for many different people that will be appealing to all of the guests. However, what is an organizer to do when planning a professional party for so many people? One of the best ways to bring people together is through laughter, and few people bring more laughter than a professional entertainer. Whether they are a comedian, a troupe or a magician, audiences at corporate events love live performers because almost everyone loves to relax and be entertained.
Fresh Office Party Entertainment Ideas
Panic Squad Improv – Unicorns!
Panic Squad Improv comedy is a team of performers who have over ten years performing for all kinds of professional events. The members of the Panic Squad Improv group are committed to creating a zany and ridiculous atmosphere both on the stage and off the stage. Their commitment to the bit is endearing and hysterical, and most of their audiences ask them back for more.
Simon Pierro – The Amazing iPad Magician
Simon has loved magic for his entire life and his passion for slight of hand leaves audiences reeling in wonder. Simon has brought his form of magic into the 21st century with his infamous iPad illusions. His specially created apps are designed to startle customers with crazy illusions that leave them in awe.
Ron Pearson – This Is Your Life (Stand Up Comedy)
Ron Pearson is one of the most versatile comedians on the stage. His funny performances compel the world's most famous comics to perform for their studio audiences. It is not just Tony Danza and Ellen that crack up at Ron's jokes; he is a favorite for big corporate functions as well. He has done gigs at Pepsi, Toyota, and McDonald's and some companies liked him so much; they asked him to be in their commercials.
Taylor Mason – Working Together
Taylor Mason is a ventriloquist extraordinaire, and his performances are loved by all ages. His career began on Star Search and since then, he has been working non-stop writing, performing and recording across the country.  Mason should be one of your office party entertainment ideas.
Daren Streblow – Call to 911
Daren Streblow loves a good joke, so his career as a stand-up comedian was a good move. He started in stand up and has performed at corporate events all over the country. Streblow is also the host of his weekly comedy show that airs in fifty markets across the world.
Bringing a performer to a company event is a great way for employees to relax and bond with each other. A great entertainer will leave the entire office laughing and reminiscing for weeks after the party is over. If you are in charge of planning an upcoming office event, and looking for office party entertainment ideas, make the choice to hire a live entertainer and be the hero of the day.